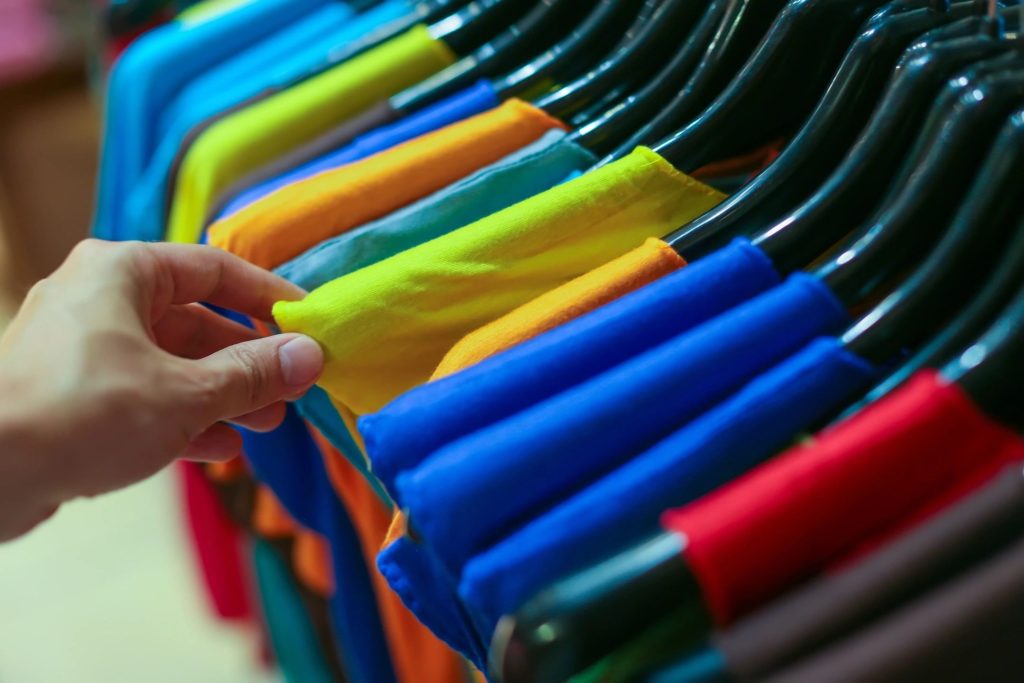 In part two of this three-part apartment living series, it's all about closets and utilizing the space you have.  Some apartments come blessed with closets with built in shelves, drawers and hanging space galore.  Unfortunately, that seems to be the exception not the norm in most rentals.  Maybe you're living in an apartment with very limited closet space or even in an apartment with no closets at all.  Maybe the closets you have are extremely odd shaped, super narrow or partially blocked by an eave.  Maybe they are filled with funky shelving, no shelves at all or no closet rod.  Luckily, there's solutions to all these problems and more!
Unfortunately, living in a rented space means there is very little you can do to alter the structure without ending up with a very grumpy landlord or worse, a diminished security deposit.  Therefore, it's all about working with what you've got.  Through my organizing business and living in various apartments over the years, I've seen my fair share of challenging closets.  Below are all the tips and products I've discovered to help you stay organized and make the most of the space you're in.
Utilize freestanding shelves
Since installing anything permanently is usually prohibited in the lease, I like to utilize freestanding storage whenever possible.  Bookshelves placed on the floor inside a closet make for an excellent place to store folded items such as sweaters, t-shirts and jeans.  ClosetMaid makes some great freestanding shelves that can be stacked on top of each other for storing shoes and smaller purses.  These long, low, shelves can be placed on the floor of the closet or on top of existing shelves to double or triple your shelf space.  They come in a variety of lengths to fit your closet and can be found on amazon or at most big box stores for around $20.
https://www.amazon.com/ClosetMaid-Stackable-31in-Horizontal-Organizer
Instead of using one of those hanging sweater organizers that attach to your closet rod, I prefer using a cube organizer like the Kallax shelf unit from Ikea.  They are quite sturdy, don't rip or sag over time, and can sit directly on the floor of your closet so no installation is needed.  Pair these shelves with decorative boxes or baskets to store items like scarves, belts, bathing suits and leggings.
https://www.ikea.com/us/en/catalog/products/40275846/#/00275848
Make the most of your hanging space
If your closet already has a closet rod installed, great!  Double the amount of hanging space by using a double hang closet rod.  It hangs directly on your existing closet rod and provides a second row of hanging space.  You can find them made from chrome or wood, depending on your aesthetic and they adjust in both height and length to fit your closet perfectly.  I love the chrome version from Bed Bath and Beyond, it's super sturdy and it costs less than $15!
https://www.bedbathandbeyond.com/store/product/commercial-grade-chrome-double-hang-closet-rod
If your closet doesn't already have a closet rod installed, don't fret.  Tension rods are a great way to provide hanging space that's removable and won't damage walls.  Although you probably won't be able to find one strong enough to support the weight of your entire closet, shorter ones placed between the wall and a shelf unit provide great hanging space for lighter items such as tanks and blouses.  If your closet is on the narrow side, consider placing tension rods between the front wall and back wall for hanging space on the sides with an open middle.
What if you have a hanging rod but your closet is too narrow to allow for a traditional hanger?  You can still utilize hanging space by using hangers with a pivoting head.  They allow the clothes to hang at an angle instead of perpendicular to the closet rod and therefore take up less space front to back.  I love the Zober Space Saving Hangers from Amazon.  They are made of no slip velvet, have a hook that pivots 360 degrees and come in a pack of 50 for less than $25.
https://www.amazon.com/Premium-Quality-Saving-Hangers-Durable
Don't forget about over the door storage
Your closet door is a huge, unused space, just begging to be utilized.  Hooks placed over the top of the door are a great place to hang purses, belts or scarves.  They don't need to be drilled in and are easily removed.  Adjustable door straps are another great storage solution.  They connect to the top and bottom of the door via removable hooks, fit all standard size doors and provide adjustable pegs to hang purses or hats.  Use Command hooks to attach wire baskets to the inside of your closet door.  Use the baskets to store bras, socks or beach cover ups.  When it's time to move, the baskets and command strips come right off, damage free.
https://www.amazon.com/Organizer-Handbags-Crossover-Organization-Standard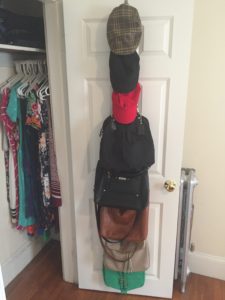 Use an armoire or custom wardrobe
Sometimes, no matter how you utilize the space, your closet is just too small to hold all your clothes and accessories.  Many times, you find an amazing apartment with one minor flaw, no closets.  Tiny and non-existent closets are quite common in apartments in older buildings.  Don't panic, there's a ton of solutions.  An armoire is a great way to create clothes storage when a closet doesn't exist.  There are a lot of options on the market in a wide range of prices for every budget.  Some come with drawers, some with shelves, some with hanging space and some with all three.  Wayfair has a great selection to match almost any bedroom aesthetic.
One of my favorite solutions is the Pax Wardrobe System from Ikea.  You can design the freestanding closet of your dreams online or in stores.  You start with the frame, they come in different widths and heights to fit your space.  They even have a corner unit to really maximize every inch of your apartment.  Then you add all the bells and whistles you want, shelves, hanging rods, pull out drawers, jewelry trays, tie racks, etc.  You can pick from white or black-brown and choose to add swinging doors, sliding doors or leave it open.  The combinations and possibilities are almost endless, and you end up with a unique solution that fits all your closet needs.
https://www.ikea.com/us/en/search/?query=PAX+wardrobe+system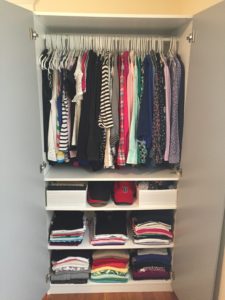 No coat closet or pantry, no problem
Unfortunately, closet woes don't just apply to bedroom closets.  A tiny or nonexistent closet in your entryway can be a sticky situation, especially in New England.  What do you do with all those bulky winter coats, rain jackets, boots, umbrellas, hats and gloves?  A hall tree is a stylish way to stash all your outerwear.  They come in a variety of styles and price ranges to match your current décor and budget.  I look for pieces with multiple hooks to hang coats and cubbies to place decorative baskets for storing smaller items like hats, gloves and scarfs.  Many also come with shelves for shoes or drawers for more hidden storage.  Consider adding a boot tray to corral all those wet, messy boots.  Wayfair has a great selection of hall trees, I especially love the one below.  You can use each side for one family member, all of your coats, hats and scarves on the left and all of your spouse's items on the right or separate by item type, everyone's hats in the basket on the left, everyone's scarves in the basket on the right, etc.
https://www.wayfair.com/furniture/pdp/andover-mills-sybil-hall-tree
What if your kitchen doesn't come with a separate pantry area?  Time to improvise!  One solution is to use an existing kitchen cupboard to store all of your pantry items.  Make sure it's a cupboard that you can easily reach since you will be accessing it every day.  If all of your kitchen cupboards are already being utilized, consider repurposing another piece of furniture in your home instead.  Is there an old bookcase you're not really using?  Move it into the kitchen and use the shelves to store all of your pantry items.  Wire baskets or clear bins keep items corralled but still in sight.  The few inches of space next to your refrigerator is another great place to store pantry items.  The container store makes a slim cart that's on casters, so it can be rolled in and out of the narrow space.
https://www.containerstore.com/s/kitchen/carts/4-tier-slim-cart
That concludes part two of the apartment living series.  I absolutely love turning challenging closet situations into accessible, organized spaces.  A well-organized closet can make a huge difference in how you feel about your space.  With these tips and tricks, I hope you too can make the most of what you've got and start loving your apartment again.  Check back next month for the third and final installment in my apartment living series.  We'll address all the stuff you're keeping for your next home, how to use it, store it, or how to let it go.