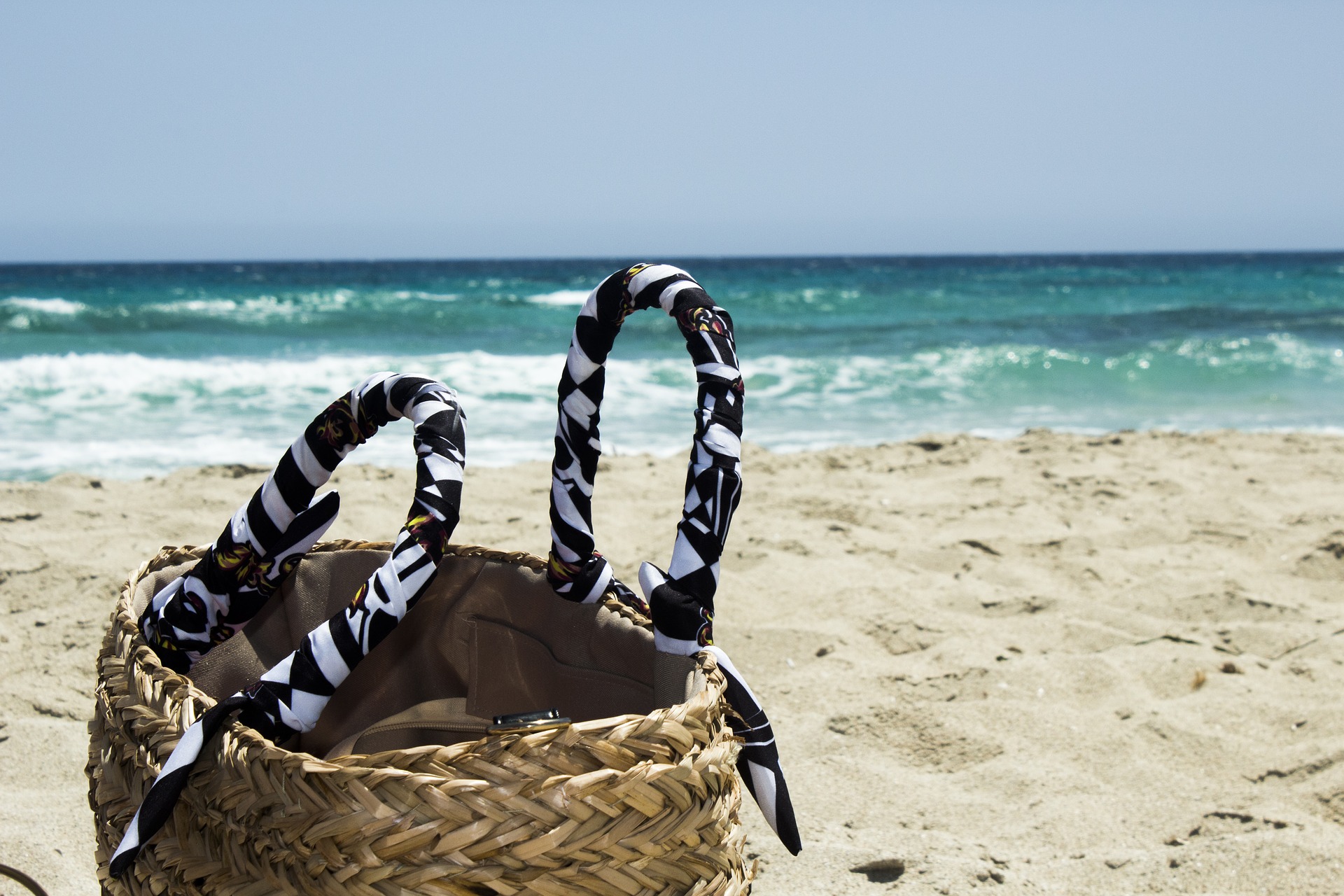 With the 4th of July just around the corner and millions of people headed to the beach to celebrate, it's a great time to talk about getting organized for a day spent enjoying the surf and the sand.  A day at the beach should be filled with fun and relaxation and the best way to ensure a stress-free day is by being prepared.  Whether you enjoy heading to the beach with friends or you're planning an afternoon trip with your kids, read on to learn how being organized will help you make the most of your time in the sun.
Choosing the right beach bag will go a long way in ensuring a successful trip to the beach.  Look for a bag large enough to hold all your essentials, including towels for you and your family.  Also consider bags that are multi taskers such as bags with built in coolers or bags with waterproof pouches for your phone, wallet and keys.  The bag should be lightweight and sit comfortably on your shoulder.  Look for bags that are water resistant or made from an easy to clean material.  I love the Everyday Lightweight Tote from L.L.Bean.  It's super roomy, durable, comes in a variety of colors and it's easy to clean.
Everyday Lightweight Tote from L.L.Bean
In addition to a great beach bag, you may want to invest in a mesh bag or plastic tote with holes to carry sandy, wet items like life vests, beach blankets and sand and water toys.  My dad used to use an old laundry basket to carry these items to the beach, much to my childhood embarrassment.  However, looking back, it was a genius idea!  Depending on your sun tolerance I also recommend a beach tent or umbrella.  Nothing derails a day at the beach faster than a sunburn.  I love the Quest Quick Draw Portable Sun Shelter.  It's super easy to set up, comes in an easy to carry, lightweight case and will protect you from the sun even when you're at the beach all day.
Now that you have the perfect beach bag, it's time to fill it up will all your beach essentials.  You'll need a bathing suit (if you're not already wearing it) and a pair of flip flops or water shoes.  Pack a quick drying towel and a lightweight blanket for everyone to lounge on.  Rolling them and placing them vertically in your bag will save space.  To stay protected from the sun you'll need sunscreen, a hat, sunglasses and a cover-up.  Consider choosing a cover-up that can double as in-town wear in case you decide to pop in somewhere for lunch or want to peruse the gift shops.  To stay entertained, I like to pack a great book or fun magazine, a frisbee or football and a portable speaker or headphones.  If you're headed to the beach with kids you might want to bring sand and water toys, life vests and goggles as well, all of which can be carried in your plastic tote.  To stay hydrated and stave off hunger you'll need plenty of water for everyone and snacks.  If you don't plan to pack a separate cooler, be sure to choose snacks that don't need to be kept cold.  Freeze your water bottles the night before so they stay cool all day.  Put your keys, wallet and cell phone in a stylish, water resistant, pouch.  They'll stay protected from the water and sand and the pouch is easy to grab for a quick trip to the snack bar or into town.  If you don't plan to bring a separate mesh bag or plastic tote, be sure to pack a large Ziploc or plastic bag for wet swimsuits and towels.  I also recommend packing a change of clothes and a long sleeve shirt or sweatshirt depending on how long you plan to stay at the beach.  When the sun starts to go down, it can cool off quickly and no one likes to be cold in a wet swimsuit.  Also pack a brush and deodorant to freshen up after and face wipes to remove any sticky sunscreen.
Once your beach bag is packed for the summer, leave it packed to save time.  Any time a perfect beach day arrives, you can grab your bag and know you already have everything you need with minimal repacking.  After a day at the beach, remove the plastic bag with your wet bathing suit and towel, those can go right into the washing machine.  Replace your wet towel with a fresh one from the linen closet.  Remove any water bottles or snack wrappers and send those to the trash or dishwasher.  The rest of your beach essentials can stay right in your beach bag.  You can store your bag in the mudroom or garage.  Depending on your trunk space, leave the plastic tote and beach tent right in the car or store them in the garage in an easy to access area.  When the next beach day comes along, just replenish your water and snacks, put on your bathing suit and grab your already packed beach bag and you're ready to head out the door. 
A checklist is a great way to ensure you never forget any of your beach essentials.  Keep it in a Ziploc bag in a pocket of your beach bag so you always know where it is.  I created the checklist below with all my beach must haves and have included a few blank spaces for you to add any of your own essentials.  Feel free to print and use a copy for yourself.  Happy 4th of July and cheers to your next fun and relaxing trip to the beach!